Showcase

Are piercings appropriate?

Learn why piercings are usually unacceptable in the workplace.

Appropriate workplace shoes

Say No to flip flops and sandal toes.

Appropriate facial hair

Learn more about appropriate facial hair in the workplace.

Scary makeup

How much is too much makeup?

Appropriate work hairstyles

Learn more about what hairstyles may be most appropriate in the workplace.
A blog by Jasmine Harvey, MPB Student Engagement Specialist
Getting prepared to enter into the workforce can be a little overwhelming. Sometimes it may feel like you are stuck at a cross roads between: what will this job require or expect from me, how will I stand out amongst the other applicants but most importantly, what does being professional mean?
Professionalism has to do with the way a person conducts himself or herself in the workplace. It also has a lot to do with how you dress and present yourself. We have heard this term probably throughout most of our lives. Of course it does not come with a hand book so we have created this blog to help prepare you for the moment called Adult Life.
Now the time has come and you are preparing for the next chapter in life - whether that's starting a career, college, training program, or brainstorming your passions to pursue. All of these will eventually require face-to-face interaction or what can be called the first impression interview. Many times professionalism is what will either seal or deny the deal. There are many topics that fall under professionalism, but an important one is dressing for success. This is a key first step.
Let's jump right in and have fun learning about dressing for success. You will learn some basic and helpful tips to make your first impression positive. Your interview, first day on the job, and future interactions will be remembered because of your professionalism.
Dressing for Success, What Does it Mean?
For most businesses there are rules that govern what is considered appropriate and inappropriate for the workplace. This includes your attire and grooming of hair, nails and make-up too. Sometimes those rules can be very confusing and seem restrictive, but it's just a reminder that no matter where you are you should always represent yourself in a positive and professional manner.
Professionally Dressed: What is that?
Glad you asked. Professional dress attire or formal business attire is a similar look to how you may have dressed for graduation or an award ceremony. It is sometimes confused, due to the word "formal" in which you may think you should wear a gown (ladies) or tuxedo (men), but it isn't that extreme at all. Professionally dressed is what I call pulling your best out of the closet. I'll explain: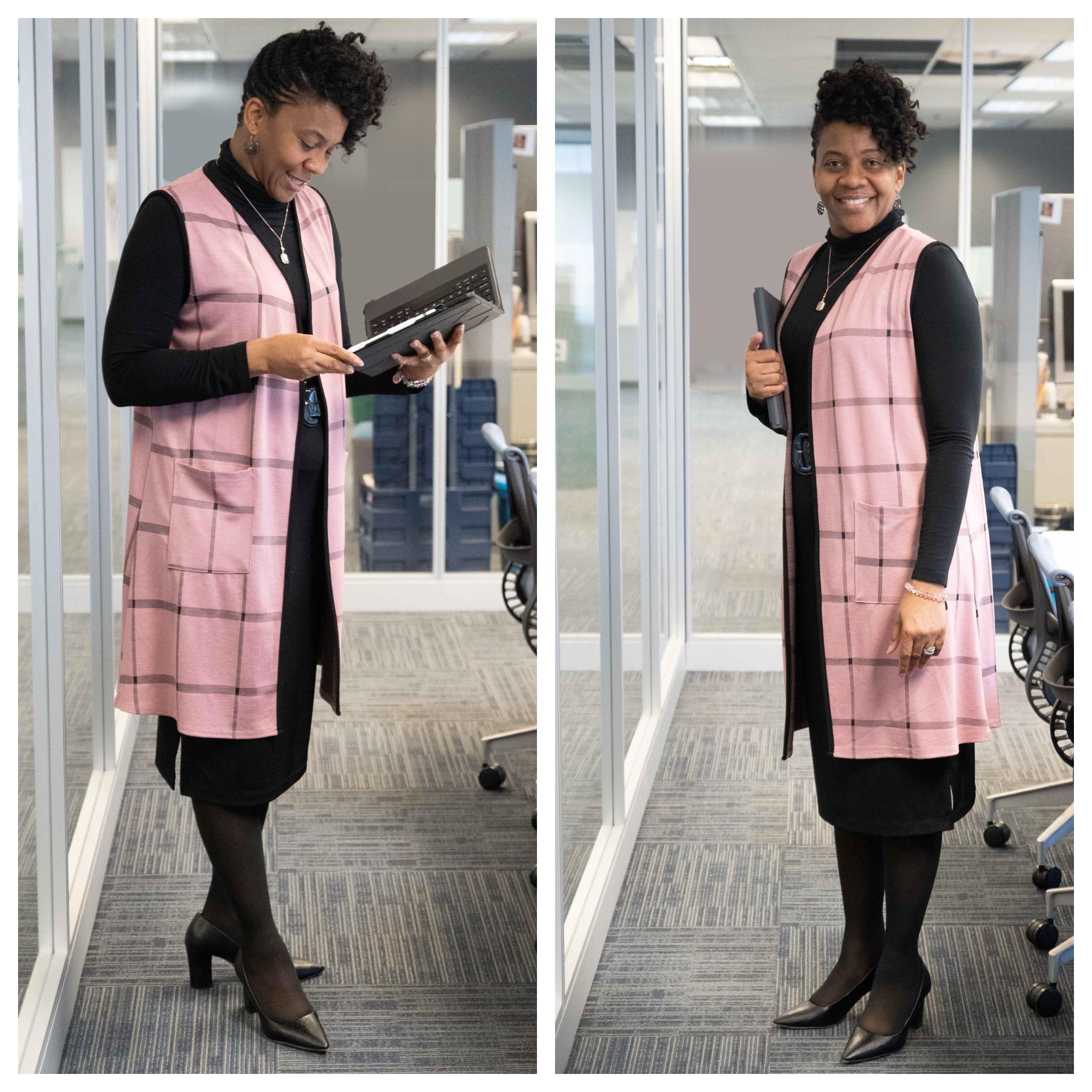 Women:
Always have a conservative neutral color dress. Remember dresses should not be above the knee. Knee length provides best coverage. Shoes should be a closed toe heel or flat. Heels should be no higher than 2-3 inches. Be sure to always add your special touch of style. There is nothing wrong with being creative. It could be just as simple as adding a vest, cardigan, blazer, jewelry or belt.
Also, dresses are not the only professional attire to choose from. Here are some additional pieces that you should always keep in your closet:
Pant or skirt suite
Pants, slacks or trousers
Blouse -button down, polo or collar
Full closure shoe (heels or flats). Remember, heels shouldn't be more than 2-3 inches.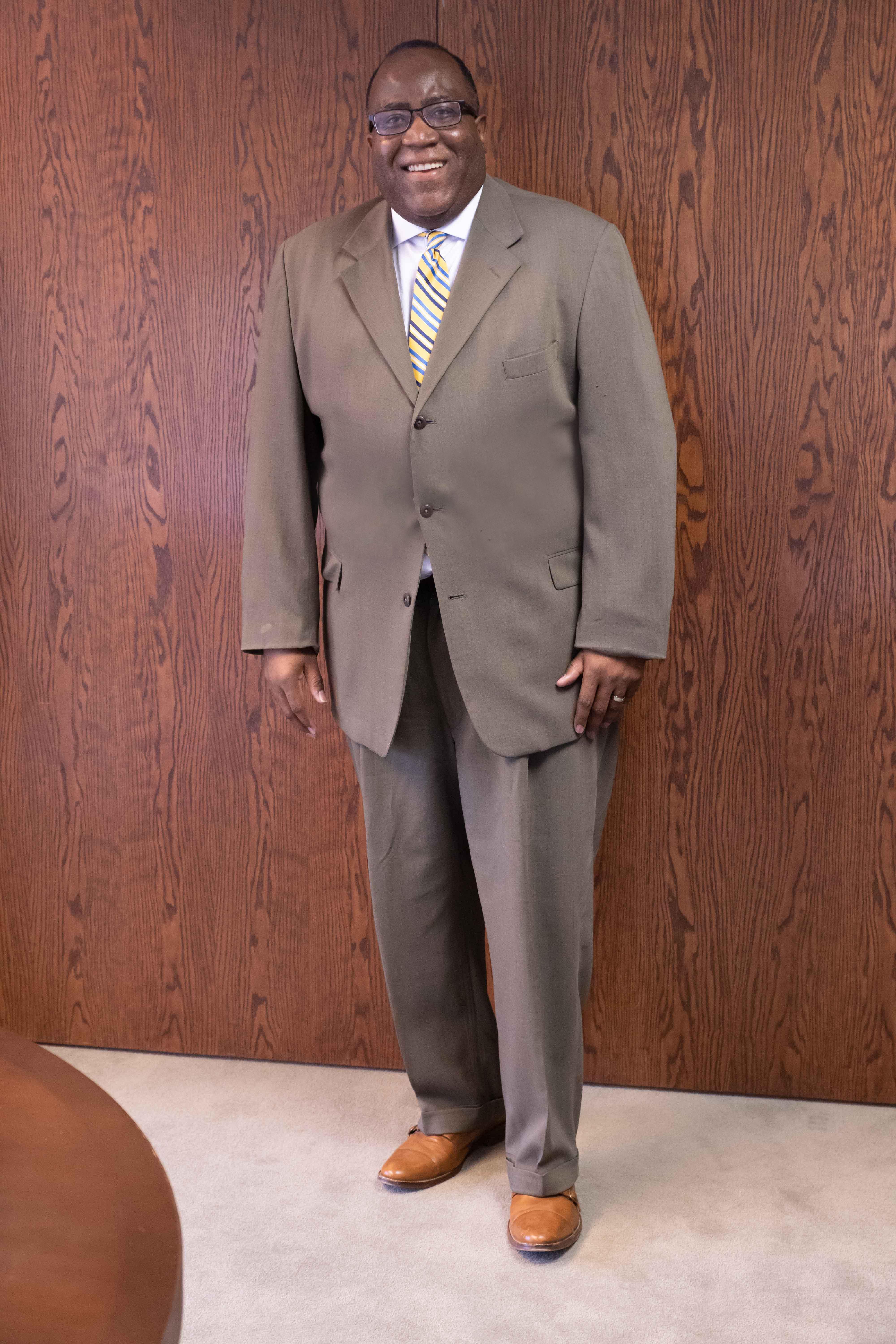 Men:
Always have a nice neutral solid color suit (can be two button or three), button down shirt, tie (can have designs or patterns that are conservative) and closed toe shoes such as oxfords. No tennis shoes*, sandals or loafers. If you choose to wear boots make sure your pant legs are not tucked in and pant legs are wide enough to go over boot without bulging out.
*Some jobs allow you to wear tennis shoes, but don't do this until after you've gotten the job.
Business Casual Day, Can I Wear Anything?
I am glad you asked. For those entering into the workplace for the first time, yes casual day does exist. This is the day we all look forward to when we can take a break from professional attire. But that doesn't mean wear anything in your closet. There are specific dress codes that will be discussed below that will allow you to be stylish while maintaining professional dress. Check out these looks as a guide.
Do Wear:
Now that's more like it! Casual attire is usually defined for men as: nice pair of slacks, button-down or polo shirt and any closed-toe shoe (oxfords or loafers). Not a tennis shoe or sandals. Casual wear can also be any of these looks (e.g. button down-may have patterns and can be paired with a tie or not and either a blazer or cardigan with slacks, button-down with sweater on top and khaki pants or polo shirt with slacks).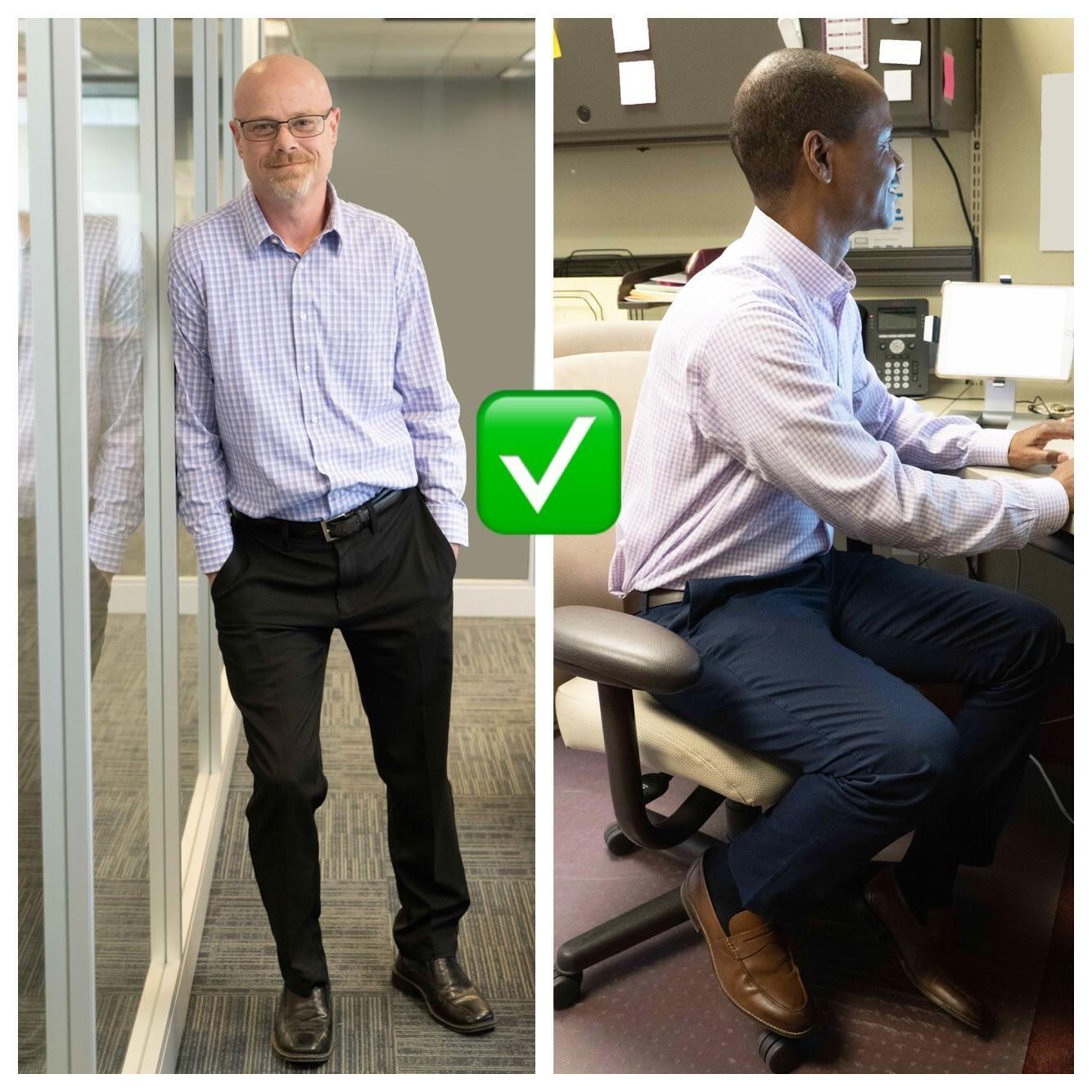 It's Wear Jeans to Work Day!
Do NOT Wear: Who wouldn't want the opportunity to wear jeans to work, but ripped jeans is a NO GO! Depending on the depth of each rip, most of your legs or thighs can be exposed and what's inside your jeans is not supposed to be seen.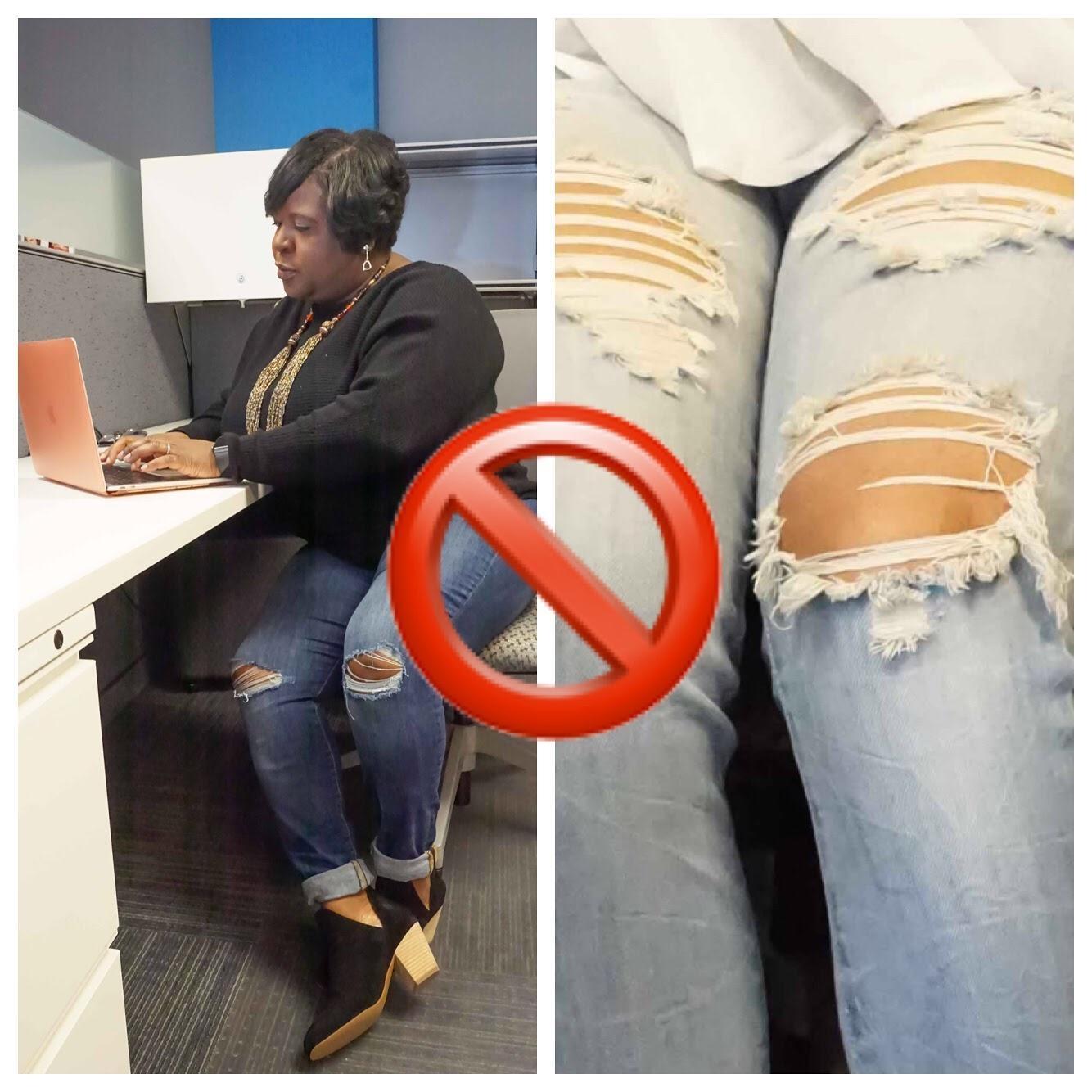 Do NOT Wear: Be aware that your casual attire should be appropriate for meetings or interviews with coworkers or guests - scheduled or unscheduled. Imagine how confusing it would be to walk into an interview or meeting and your boss is talking to you dressed like this? Not a good look, right? (Side note: not a good idea to have your feet on the desk either.)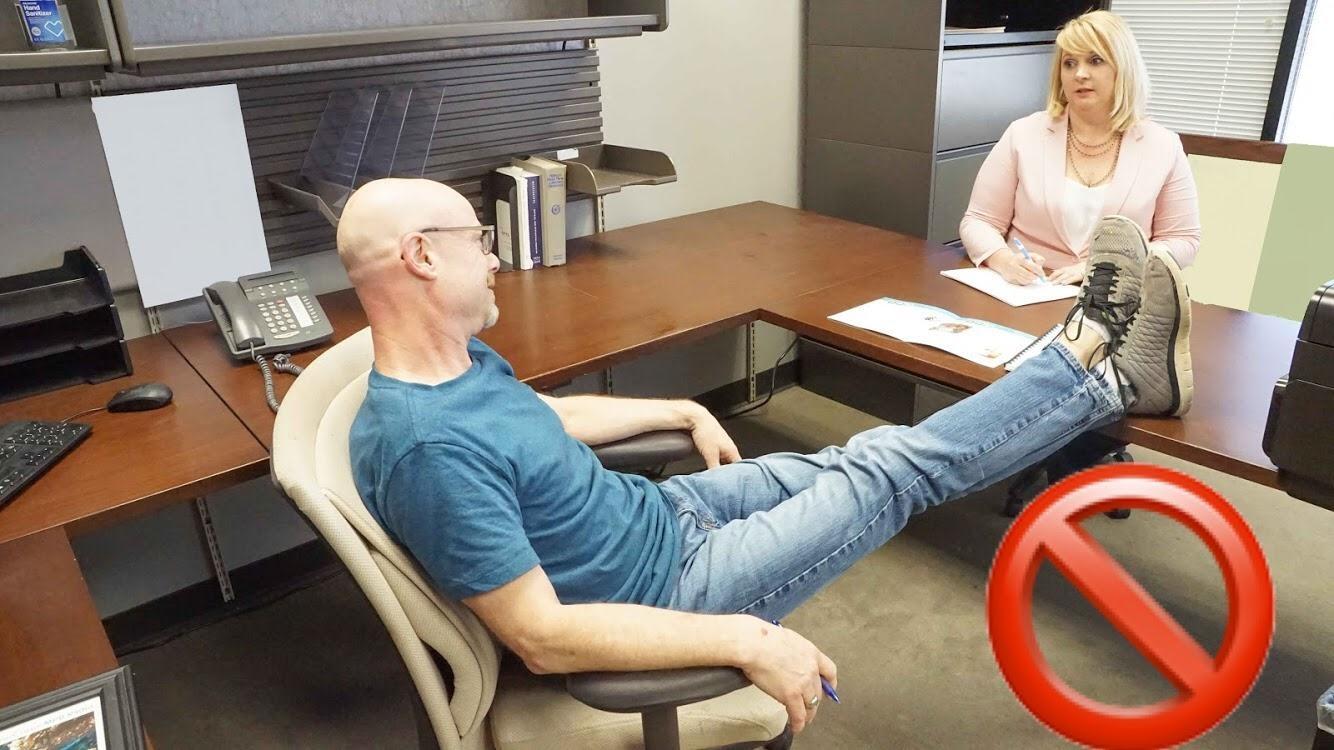 What Not to Wear on Casual Day
Do NOT Wear:
You have officially been notified that leggings (alone) should never be worn to work without appropriate covering. Adding only a sweater or shirt that stops above or at the waist is not an appropriate outfit for work. Some legging material is too thin, see-through and tight. If you're not careful everything that you think is covered is now for public view (What an embarrassing sight that would be, right?). Remember, sometimes your definition of casual is not the same casual in the workplace, so always double-check casual attire policy.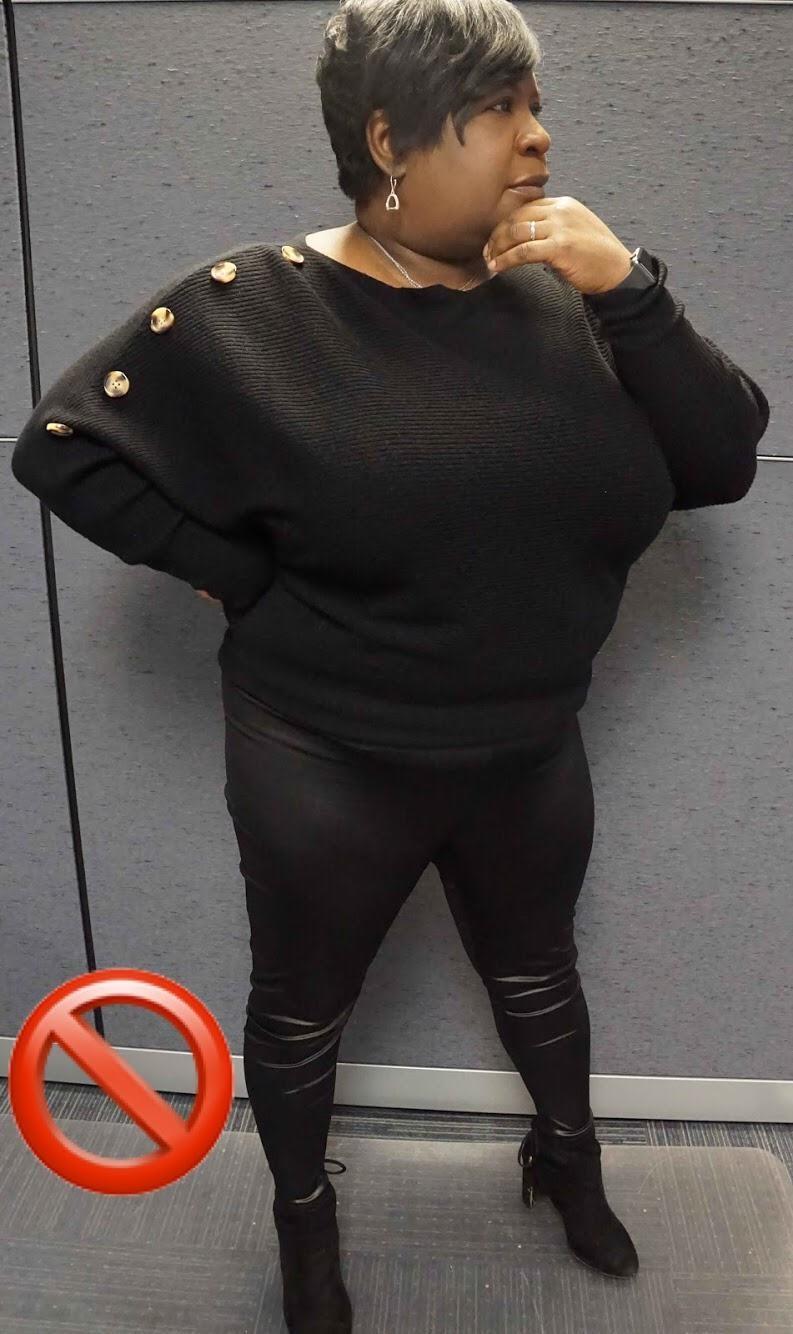 Pajamas and Bonnet:
ABSOLUTELY NOT!
If you find yourself laughing at this picture, I hope it is because you realize that this is not appropriate attire for work. Your sleep wear is NEVER, I mean NEVER allowed in the workplace. If for some reason you are still sleepy and feel the need to not prepare yourself (get dressed for work) please do yourself and supervisor a favor and stay home. That will save you a lecture and your reputation. This rule still applies even if you are off work and need to make a quick run to the office. Always be decently and professionally dressed. You never know who you will see or who will see you.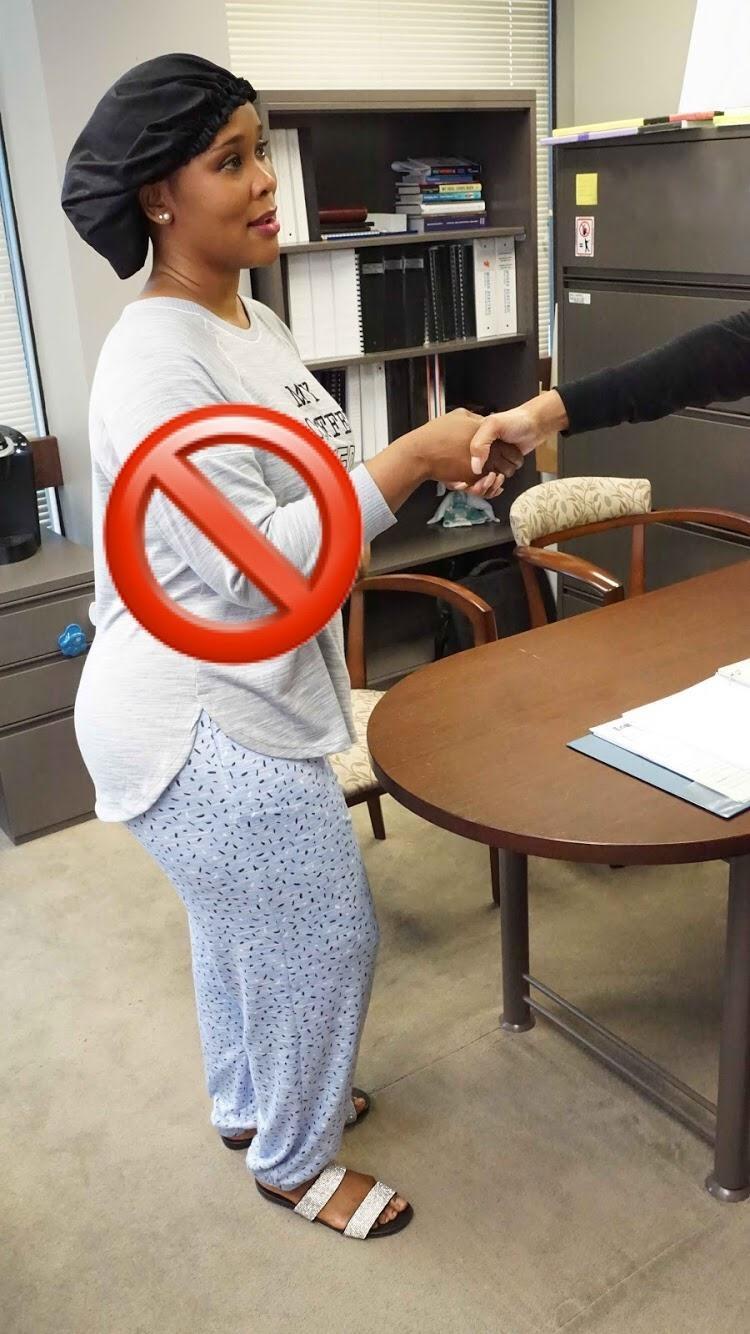 Too Sexy at Work
WHOA! Wait a minute, what is wrong with this picture? Have you heard the saying that goes: "There is a time and place for everything?" "Sexy," tight and revealing clothing are one of those that fall into this category. This type of clothing should NEVER be worn to work. Imagine what would happen if those papers accidentally dropped off the printer and she had to bend over. Lets be honest, not a sight that should be shared with the public. Your attire says a lot about you and in this stereotypical world, you can be labeled even if it is unintentional. Let's always be mindful of length, style and fabric thickness when wearing dresses or skirts.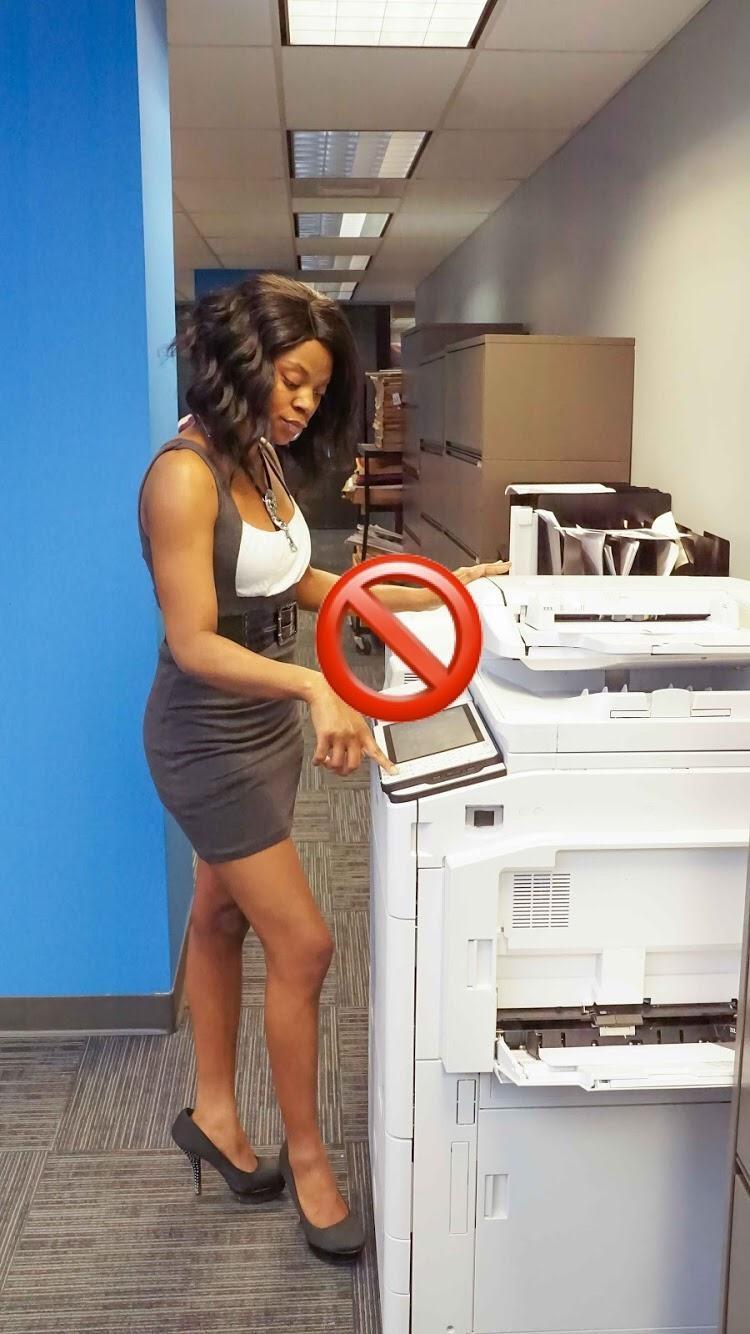 Here's a wardrobe checklist that will save you a lot of embarrassment:
Check the length of everything worn. Dresses and skirts should not go more than 3 inches above your knee. Knee length provides best coverage.
If you have to keep pulling it down or adjusting it every five minutes, you should probably change unless you enjoy feeling uncomfortable and wearing tight or too small clothing.
If you can see your bra or bra color and/or are constantly pulling your dress or blouse up to hide cleavage, it is definitely too low cut and see through.
Which shoes were made for working?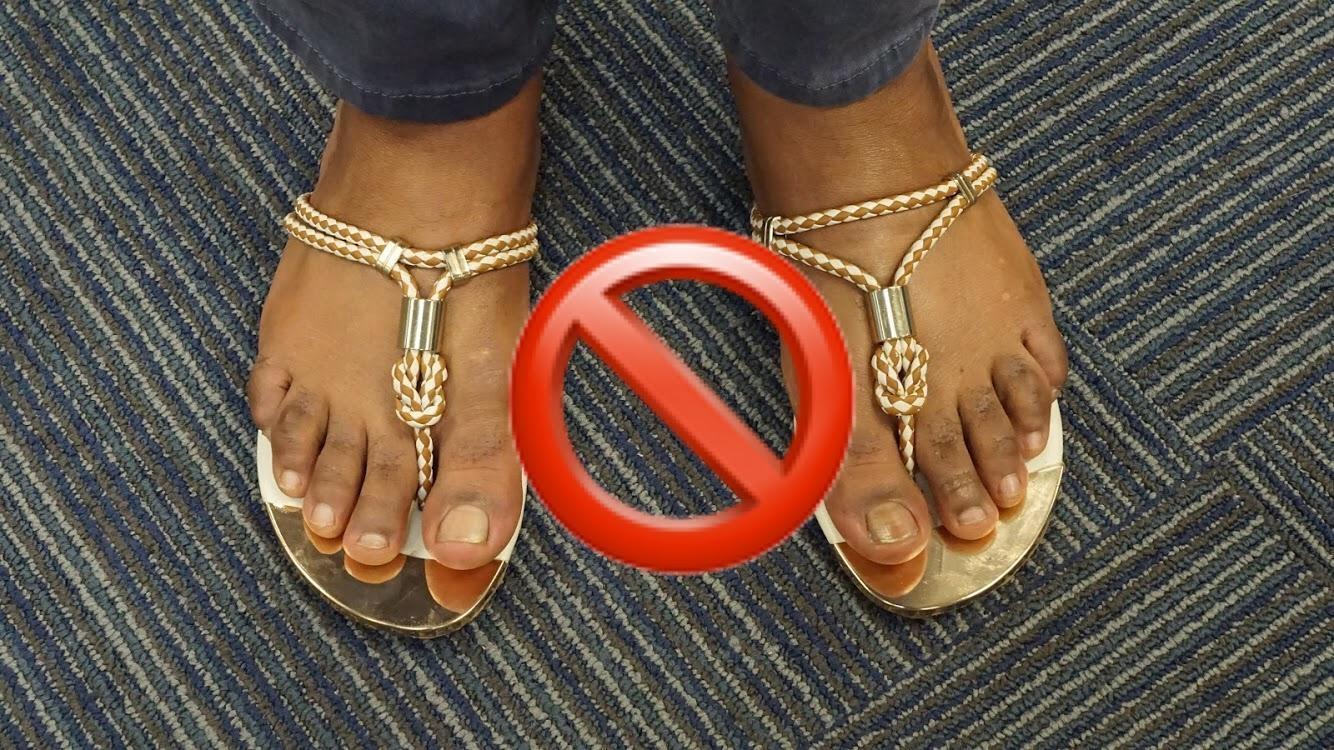 Flip flops are not to be worn in the workplace. Most businesses require shoes such as sandals, heels, boots and flats to have a back on them and closed toe. Dress code for shoes are not to just govern professionalism, but to implement safety in the workplace.
Proper shoes will help you move quickly to safety if unexpected emergency situations occur.

If you wear open toe shoes, make sure your toenails are groomed.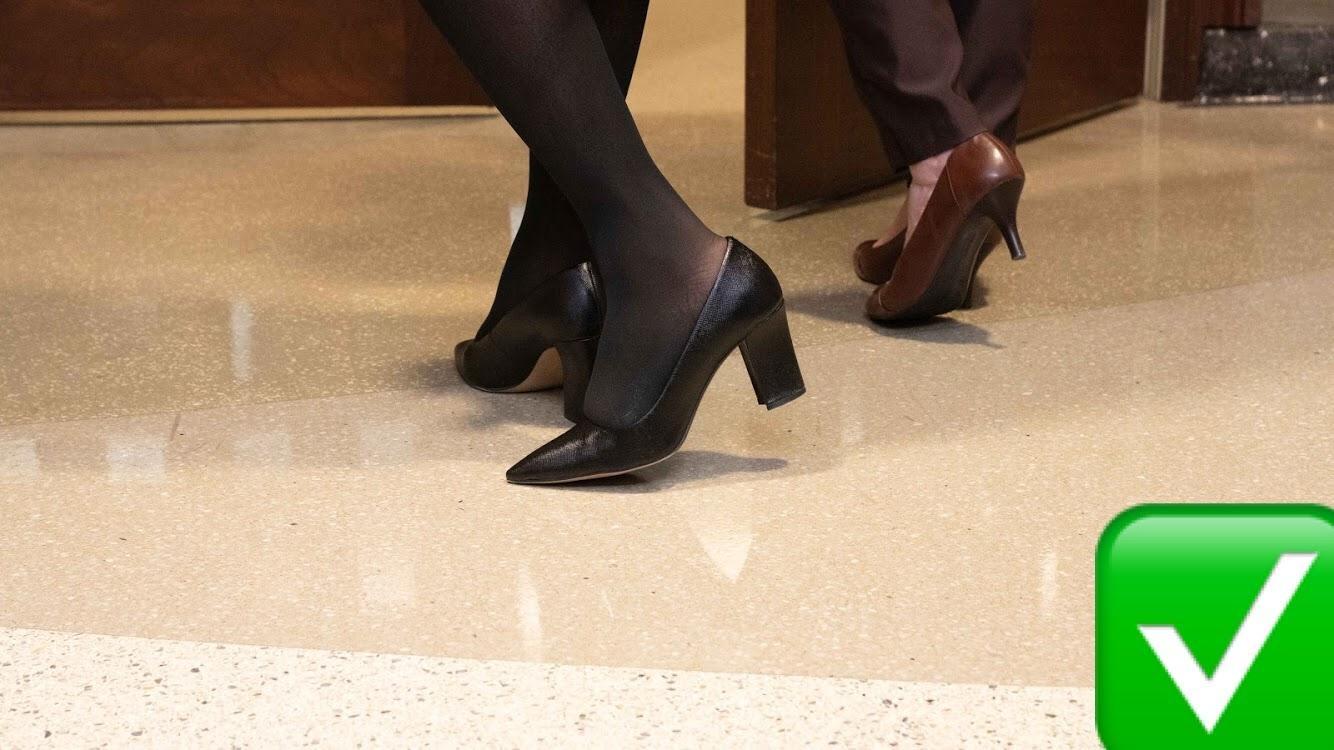 Heels are appropriate shoes for the workplace, but in the professional setting there are certain ones that are inappropriate. Examples include more than 3 inch heels, straps that tie up the leg , has no back-depends on style, full open toe, loud color and too much designs-sparkles, glitter and jewelry. Appropriate heels include: 2-3 inches in height, neutral solid colors, and some design. Always confer with your place of employment for their guidelines.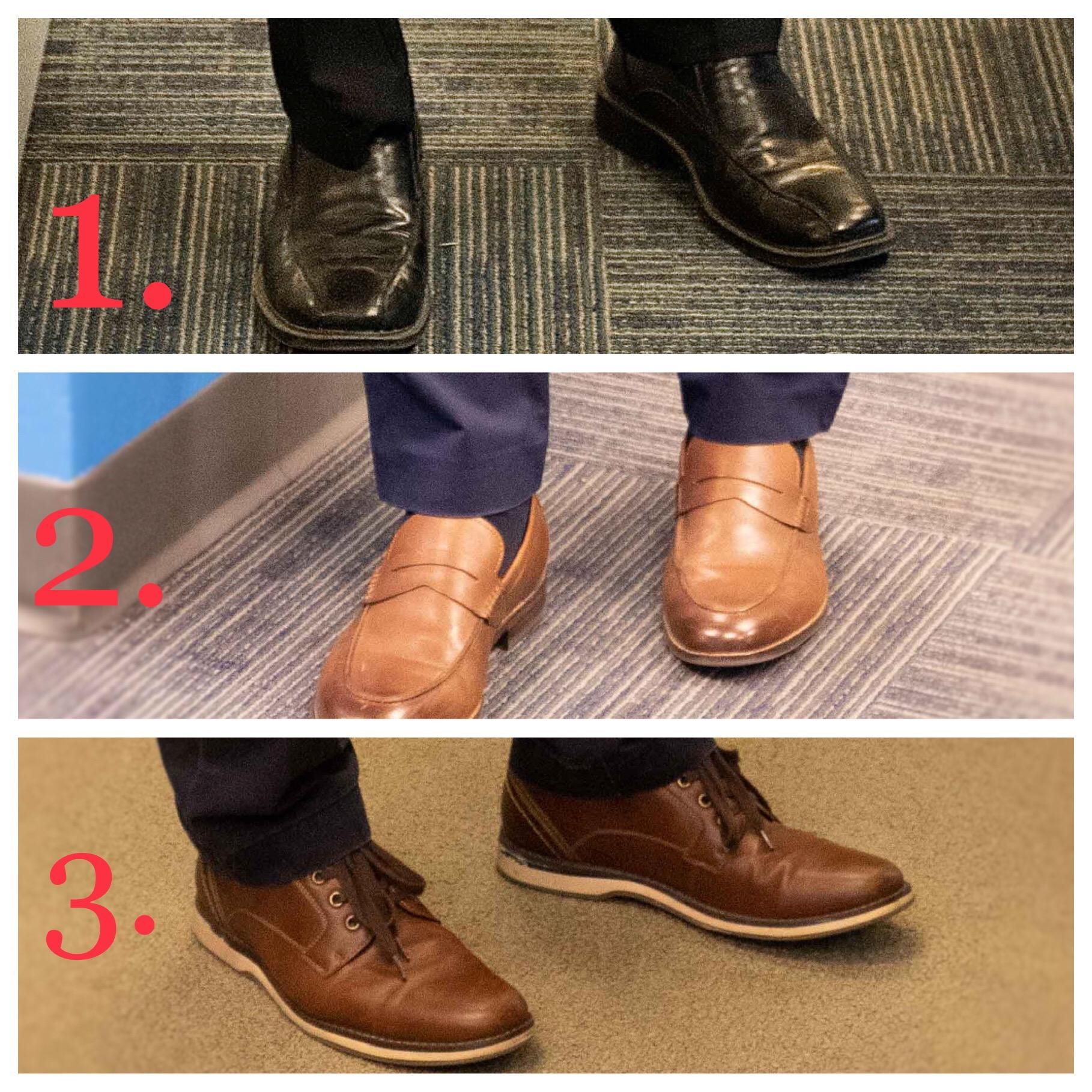 Here are options you have as it pertains to what shoes are appropriate for casual attire. Depending on your style or preference, either one of these: oxfords or loafers-or what some people call "church shoes" will do. However, when the dress attire is professional or formal business attire, the preferred shoe is number 1 or 2.
Accessories are My Necessity!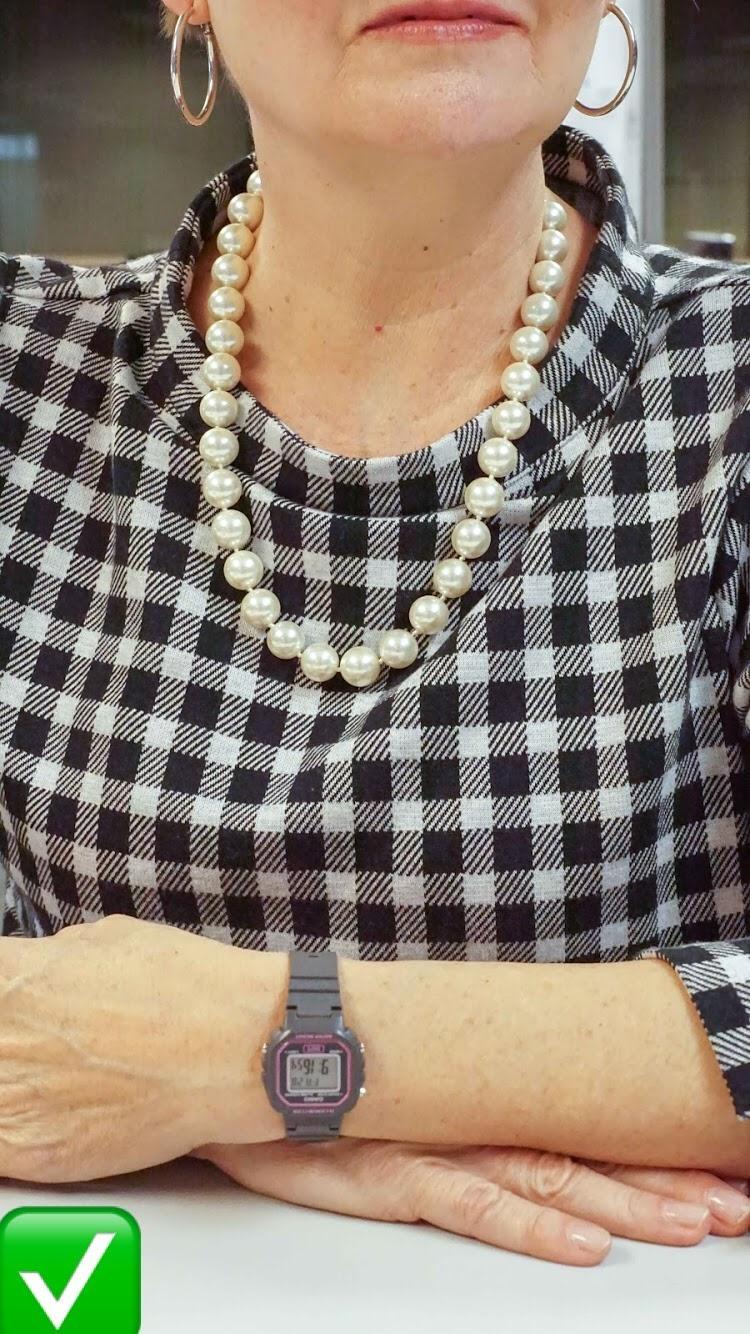 To all the jewelry lovers that are indecisive about which pieces to wear, do not put on everything you have ever purchased. Work is not a fashion show. Although your jewelry pieces are beautiful, your entire collection should not be worn to work (unless your job is having an auction).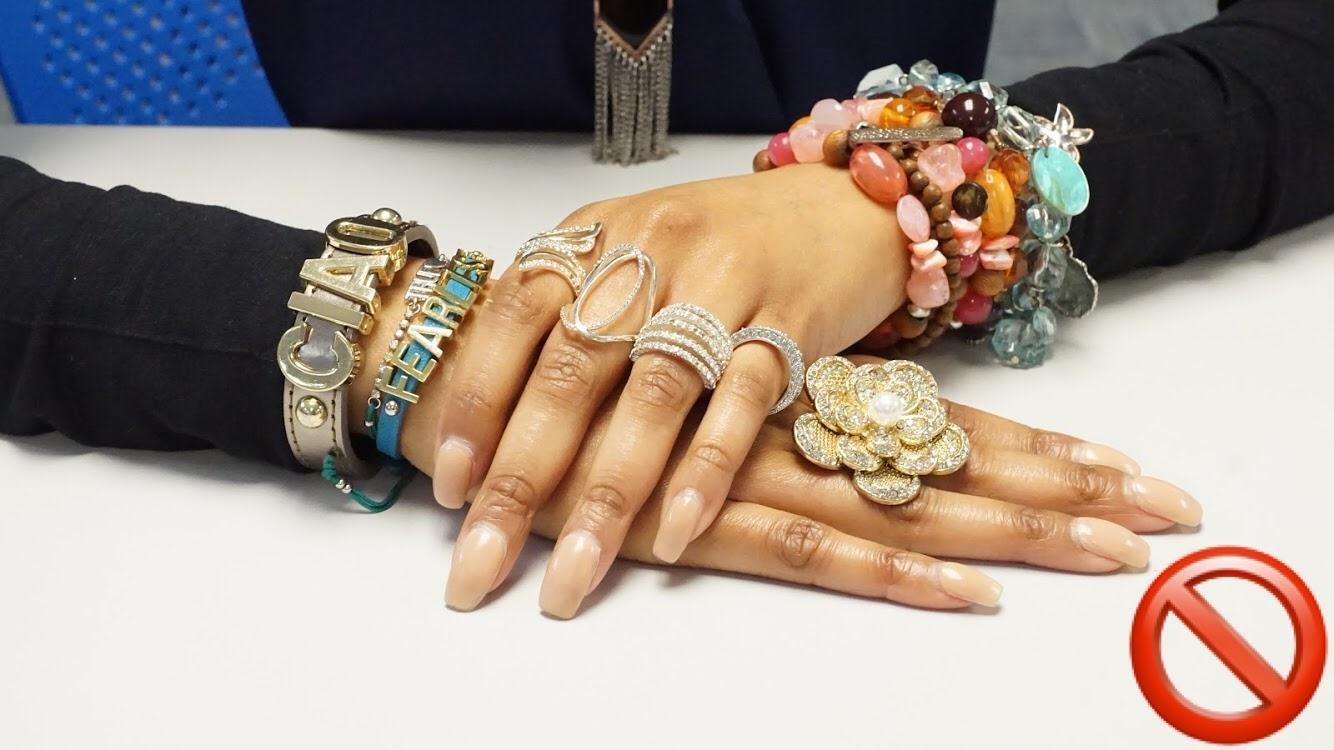 Helpful Tips for Accessories
Women: Neck, ears, wrist and fingers should not be swamped with jewelry. A simple necklace (no more than two), earrings, rings and bracelets-no more than three on each ear, wrist and finger.
Men: Wear a simple necklace (no more than two). Sport one ring per hand (side note: if you enjoy wearing humongous high school, college or athletic rings be sure to wear one and not all ten of them on one hand. It can definitely be a distraction.) One watch is enough; and if you are in to woven, braided, yarn, gemstone, leather, gold or diamond bracelets, wear no more than two per wrist.
Grooming: Nail Care is a Necessity!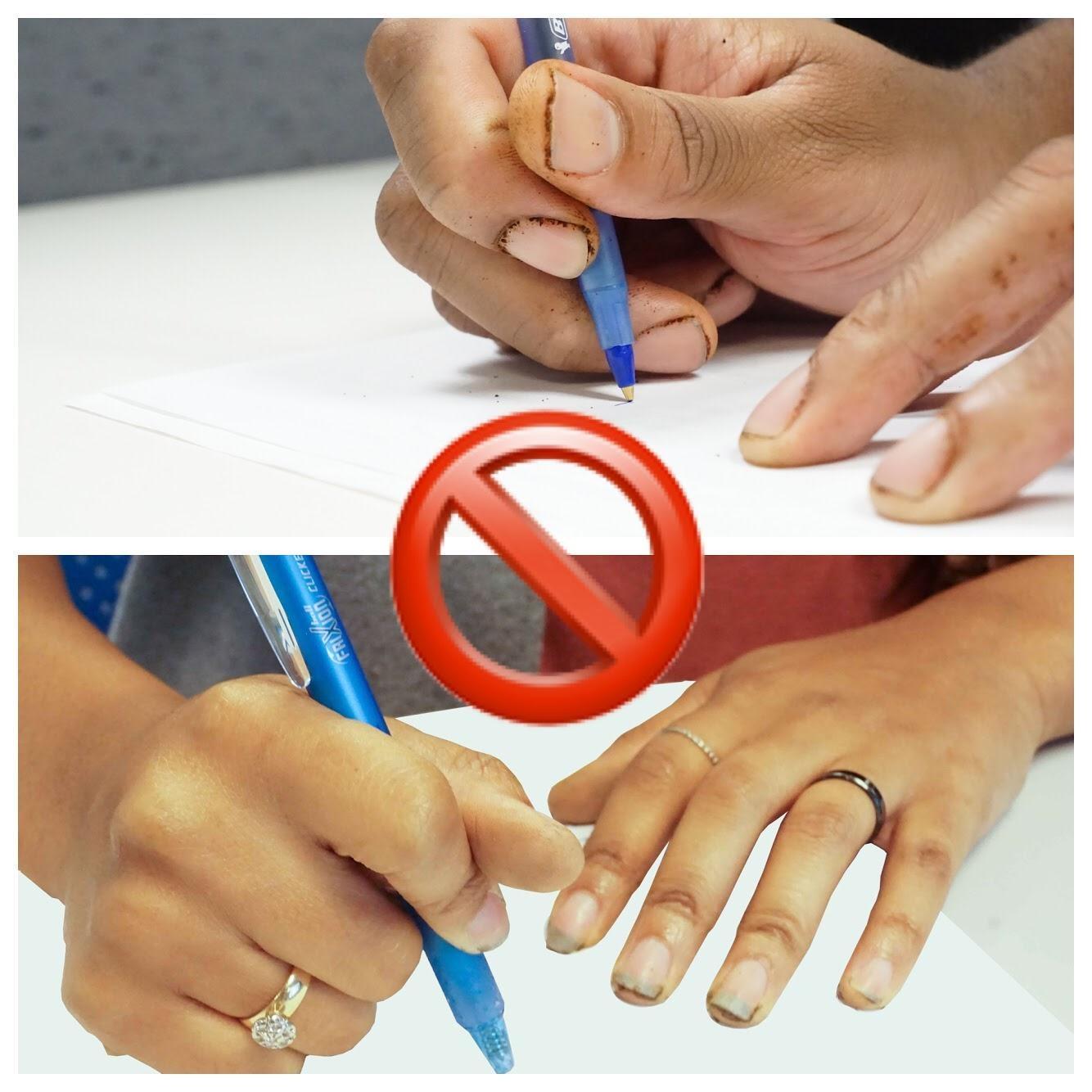 We can all agree that there is definitely a serious problem with those nails, Eww…Yuck! Imagine sitting in an interview or meeting with dirty fingernails, especially if the person talks with their hands. That would be very hard to look at, right? Men, although you may not think so, clean hands and nails are highly important and duly noted. Having a fingernail care kit (nail clipper, filer and lotion) is a great investment to make.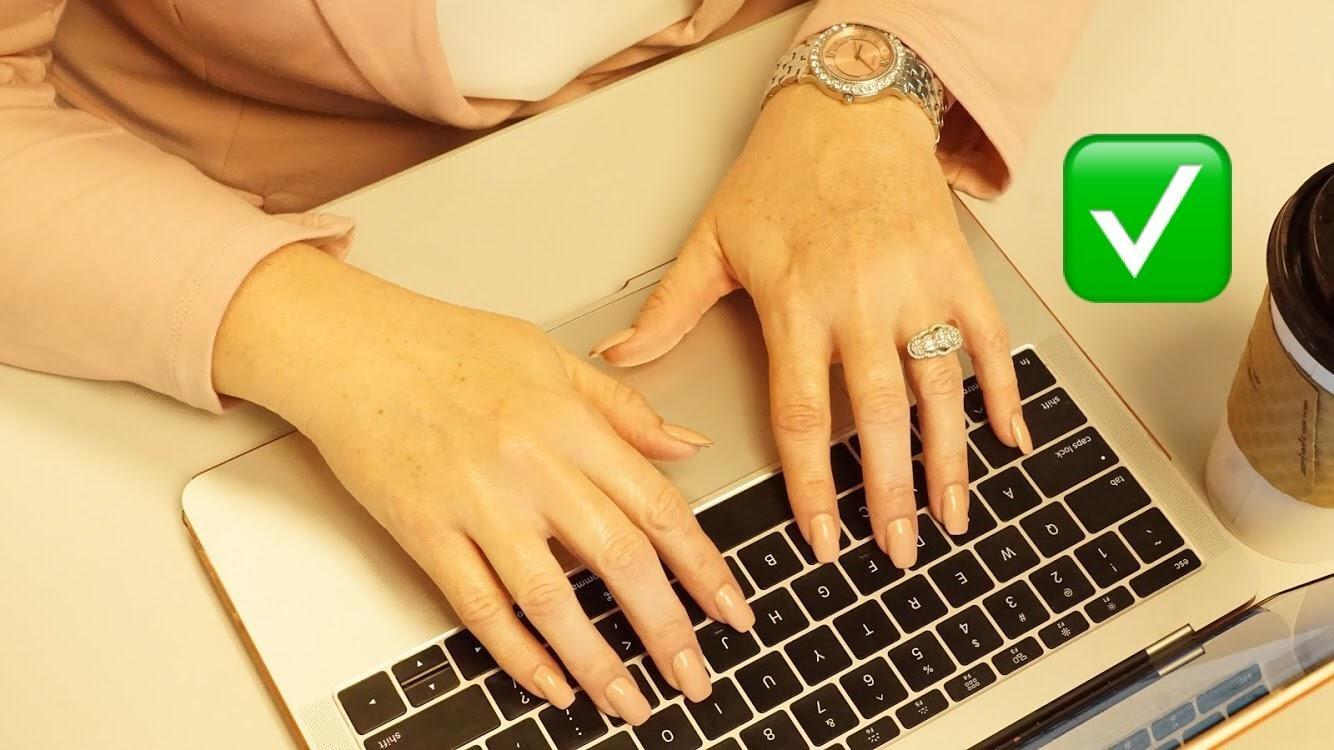 Another grooming tip to keep in mind, specifically for ladies that enjoy wearing artificial nails, make sure the length, shape, color, and design are not distracting and are professional for your workplace. Although it may seem like something small that can be overlooked, having clean, professional and well-manicured nails is very important.
Grooming: Your Hair Introduces YOU Too!
Let's talk about hair. Your hair says a lot about you nonverbally. It makes statements that correlate with your personality, mood and also speaks to if you were running late and forgot to do it (yikes!). This is a huge reminder that our hair is also important in the grooming process.
Do NOT Wear:
I know you may have your style preference that shows off your bold creativity. But, be cautious of going "overboard" at work, like the image below. This hairstyle would cause focus to shift towards your hair and sadly not you. Appropriate and inappropriate hair policies may vary. Some companies may encourage your own creative hair expression, but for the meantime, especially for a first meet and greet (interview), or hosting a big team meeting, play it safe, and professional.
Other tips:
Don't use too much spritz
Keep hair out of your face
Make sure your hair is dry
Do not use wild and vibrant colors
Do Wear:
To all the beautiful natural people in the world, your natural hair matters and should be embraced, but can we agree that it's not excluded from being properly groomed? Grooming is very simple, the same energy you put into doing your hair for school, church and for a date, use that same energy when you are going to work. This means hair shouldn't be half done or styled.
Grooming: Let's Get Cleaned Up!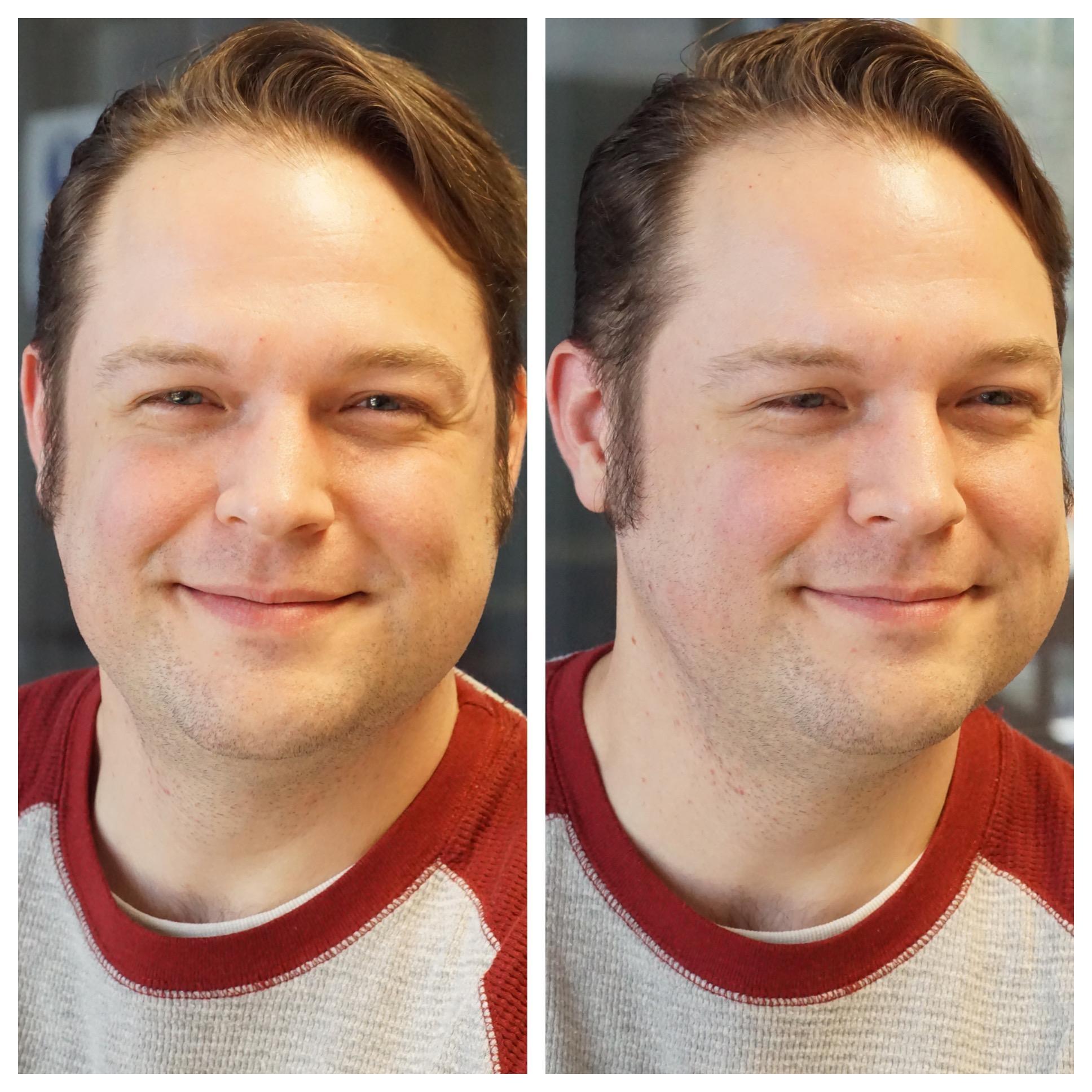 Alright guys this is for you. Show of hands if you agree that every man wants to feel and look confident in appearance? (I know hands raised instantaneously). I'm sure you will agree that you must invest time too with your grooming routine. As you can see a clean groomed face and hair make a big difference to your appearance. You may think it is overlooked but it's not.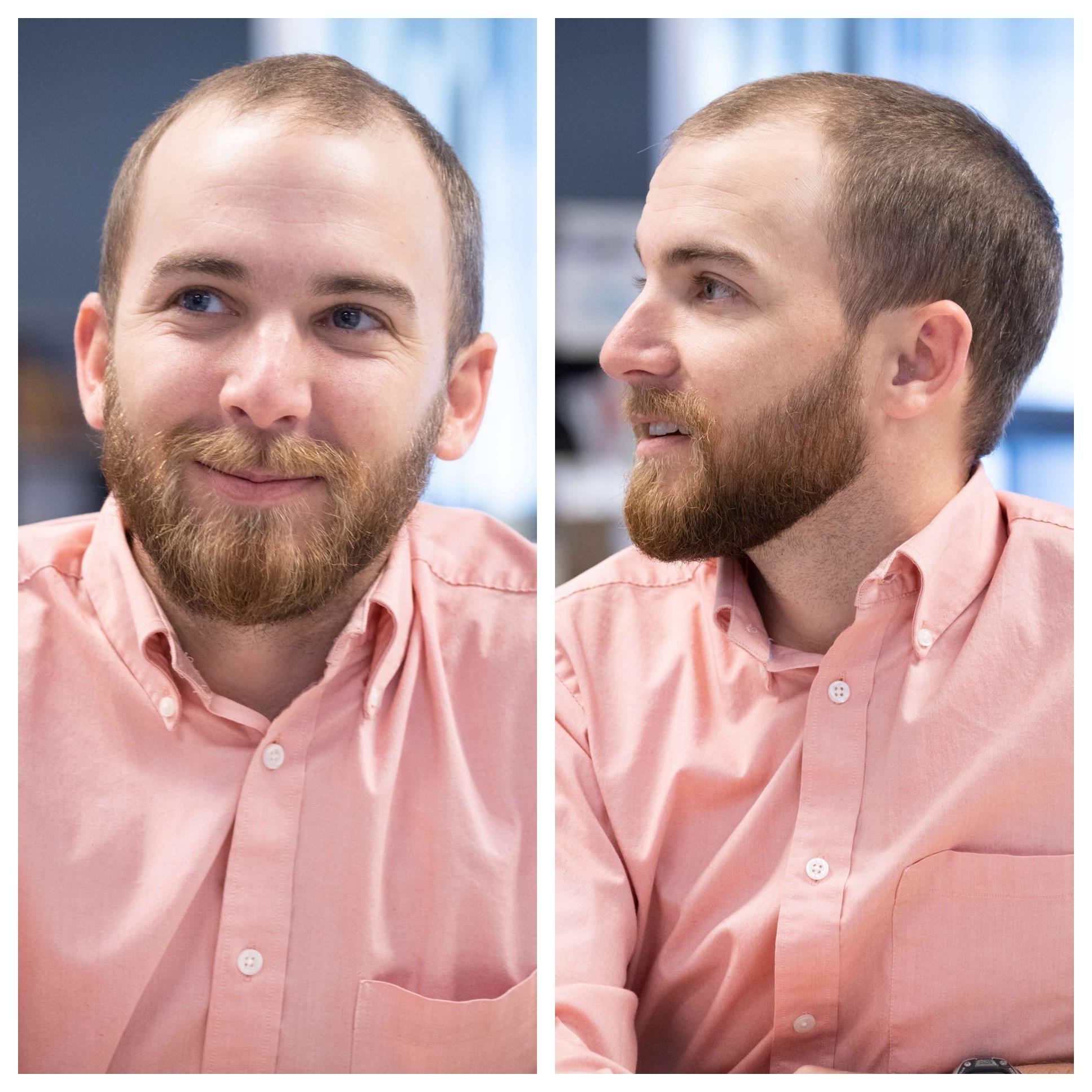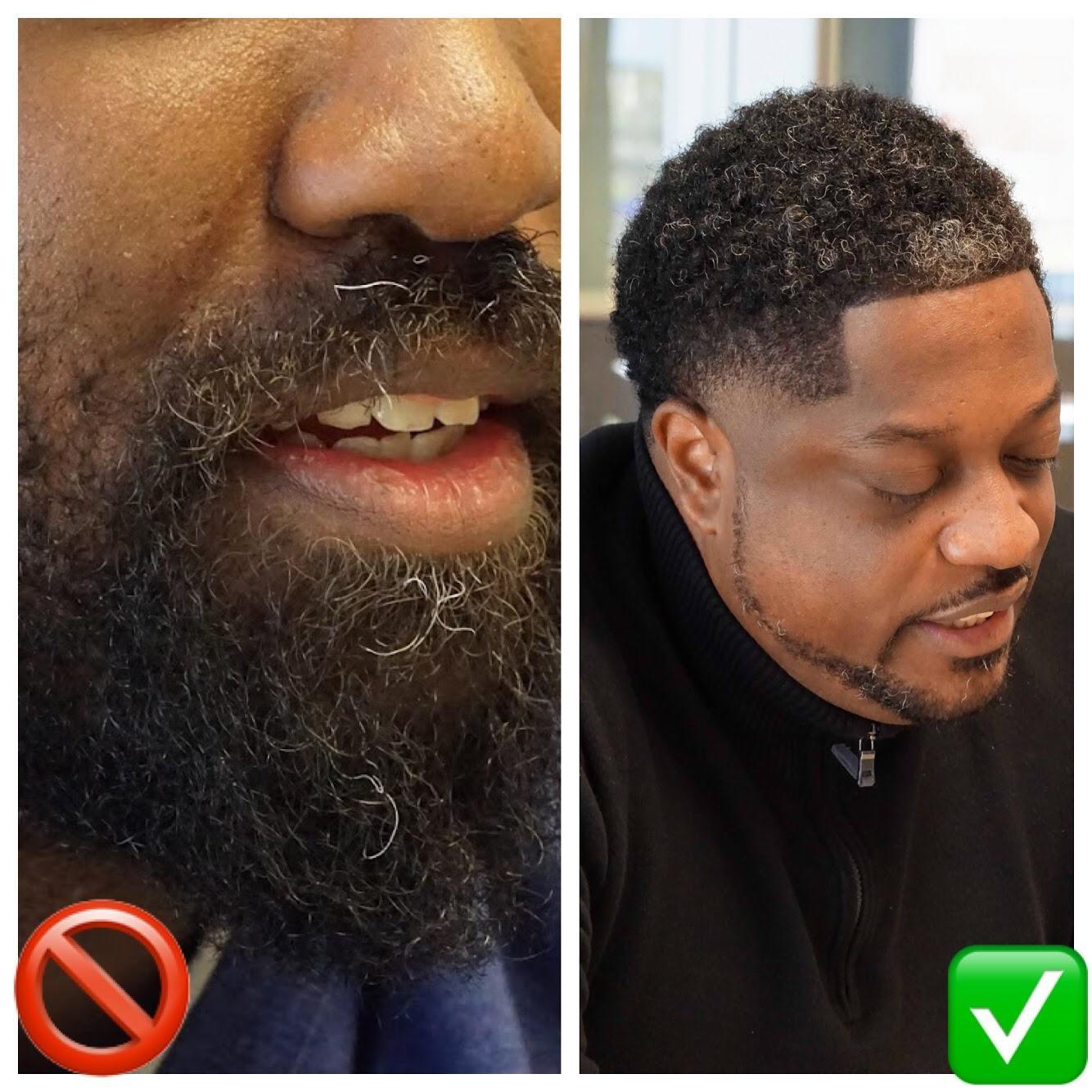 Here's some easy grooming tips:
Shaving- be sure to use proper razors for your skin (don't want red irritated skin). Shave evenly on both sides and double check to make sure all the hair is removed.
Beards/Hair- trim evenly with correct clippers (split ends do show on beards). Also, be sure to wash and comb through it (knotted and smelly hair is not a good look or aroma).
"Shape-ups" or "line-ups" are very important too. Be sure to properly line your hairline.
(Refer to your barber for help, especially if you're doing it yourself for the first time.)
Makeup: To Make the Day or Ruin It?
What do we have here? Definitely serious makeup malfunctions during these interviews. Rule of thumb: makeup should enhance your beauty, not take away from it. Now, of course, you are entitled to your own judgment when applying makeup, but let's be honest, too much of it is distracting. Here are some DON'TS to consider when applying your makeup: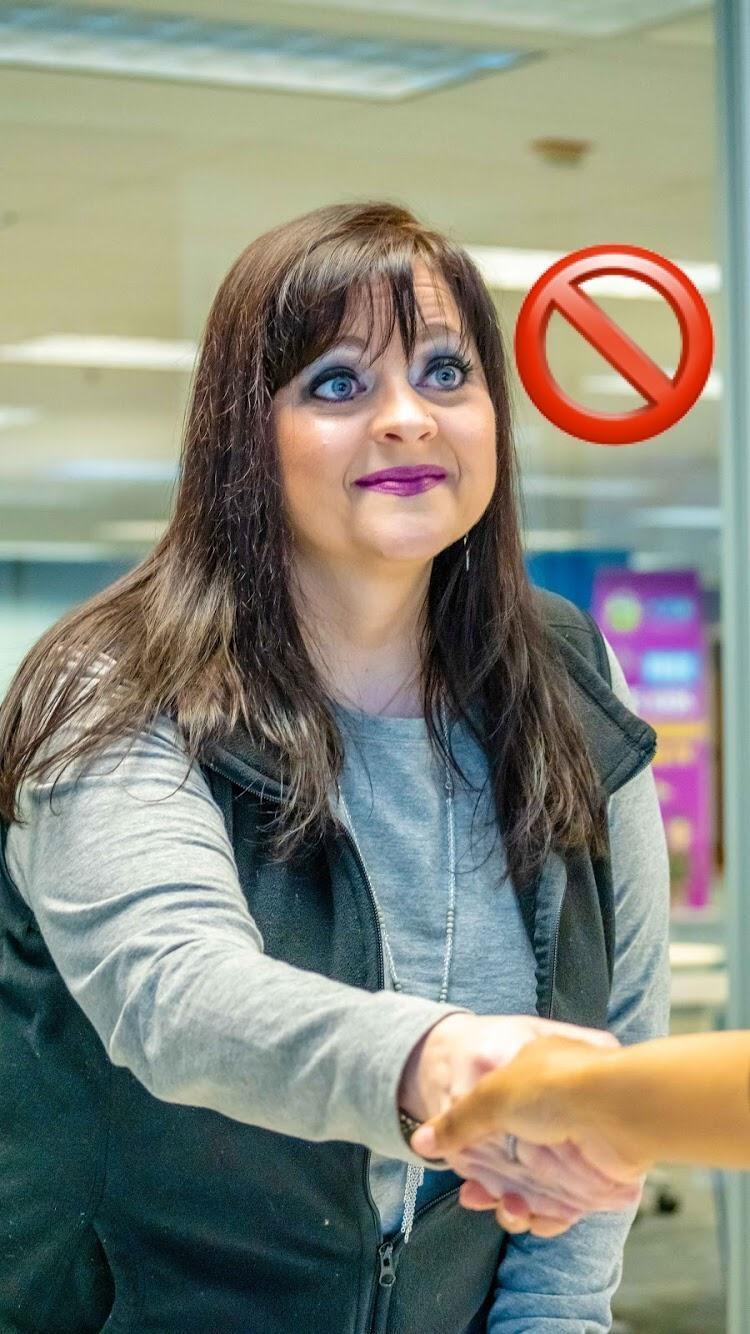 Don't: Apply too much or Incorrect Shade of Foundation
Be sure to find the perfect match to your skin type and tone. No one wants to look two-toned. If you are a person who gets nervous very easily or sweats a lot, you wouldn't want to have your pores clogged up where the makeup will start wearing you (running down your face onto your clothes).
Don't: Colorful Blush
Be cautious of wearing loud pinks, oranges and a lot of glitter on your cheeks. Be sure to blend in all makeup.
Don't: Multi Colorful Eye Shadow
All the colors in your eye shadow box should not be worn at once, especially in a professional setting. For some jobs (e.g makeup artist) this is appropriate, but for most workplaces, being colorful and flashy are ultimate distractions and inappropriate.
Don't: Huge and Long Eyelashes
Your eyes are what they need to see not your lashes.
Don't: Heavy Eye liner
Can cause eyes to become irritated and runny. Imagine having your boss and coworkers confused and concerned during a meeting because there are black tears running down your face (Tragedy!). One line strip will do.
Don't : Colorful Lipstick
Be cautious of wearing bold colors (reds, pinks and oranges). Neutral colors are always safe to wear.
Don't: Overdue Mascara
Clumpy, dark and extra thick eye lashes are not for the workplace. One thin layer swipe will do.
Are Piercings Appropriate in the Workplace?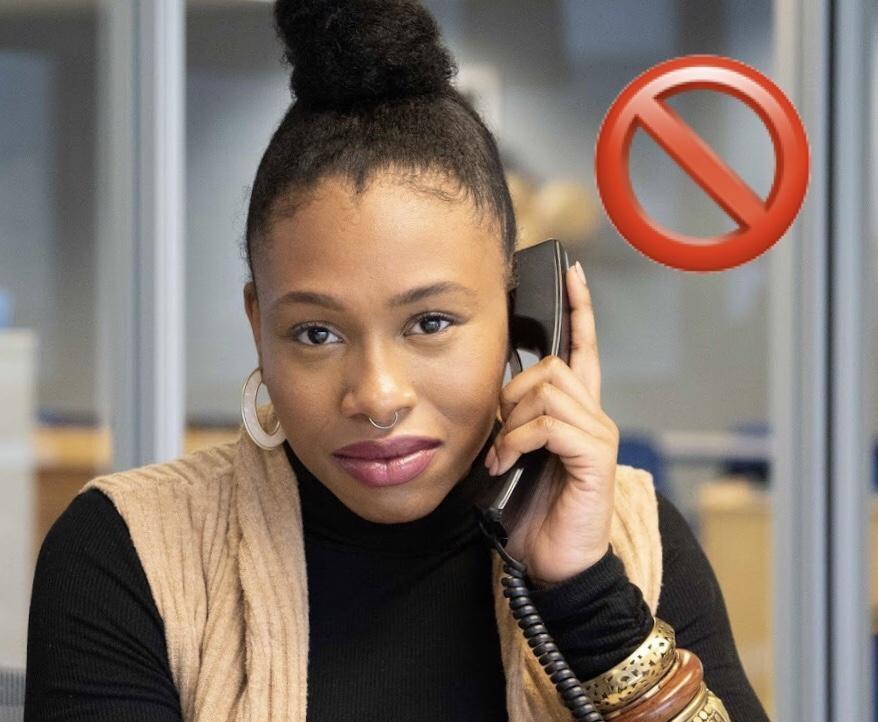 The answer is No. Although nose piercings are common and popular to have to express your personal unique sense of style, it's not considered an appropriate or professional style in the workplace. Most corporate businesses have workplace etiquette rules to govern facial and body piercings. Some inappropriate facial piercings include: septum, diamond or hoop nose rings - eyebrow, lip and tongue rings - cheek or bite mark piercings - ear gauges or bars. Certain jobs require you to have contact with customers or clients, so keep that in mind when applying for a job. If you are thinking about getting a piercing or already have a piercing(s), be sure to get familiar with your employer's piercing policy.
It's Summertime, Sleeveless Top Season!
Do NOT Wear:
Well I wish I didn't have to rain on your parade, but sleeveless tops are another not-to-wear in the workplace. Sure, companies understand the changing of seasons and the different heat tolerance for their employees, however, it's unprofessional to be sleeveless in the workplace. No worries, there is a simple and quick fix for making sleeveless tops professional. All you need to do is add a cardigan, blazer or nice jacket that is thin enough to keep you cool on top.
Although, this may not be inappropriate for all professions of business, be sure to become familiar with dress code policy.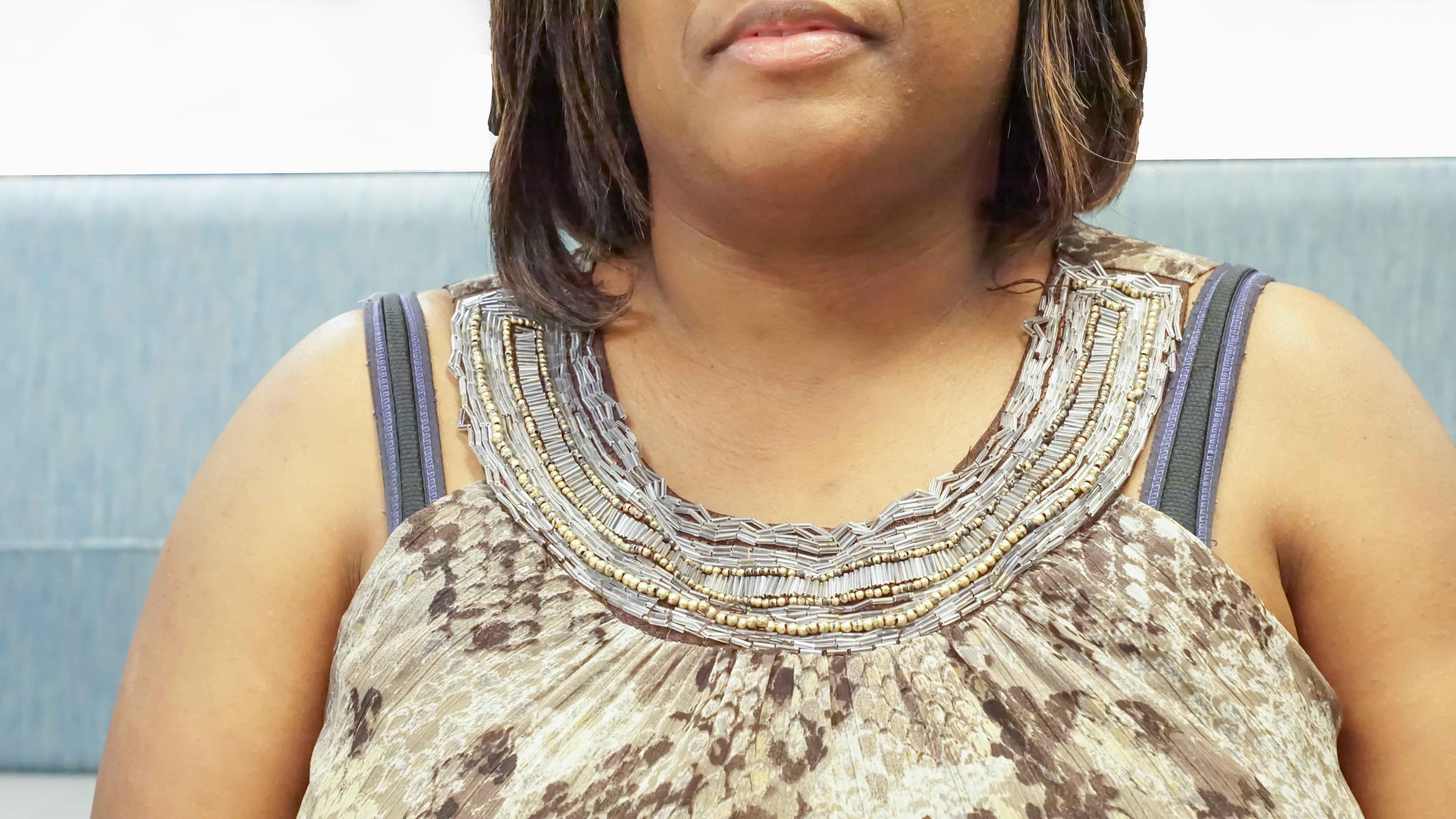 Have you ever had a bra strap that continued to play peek-a-boo after you have tucked for the hundredth time? Well no need to stress anymore. I have a quick fix that will help. All you need is a safety pin or clip.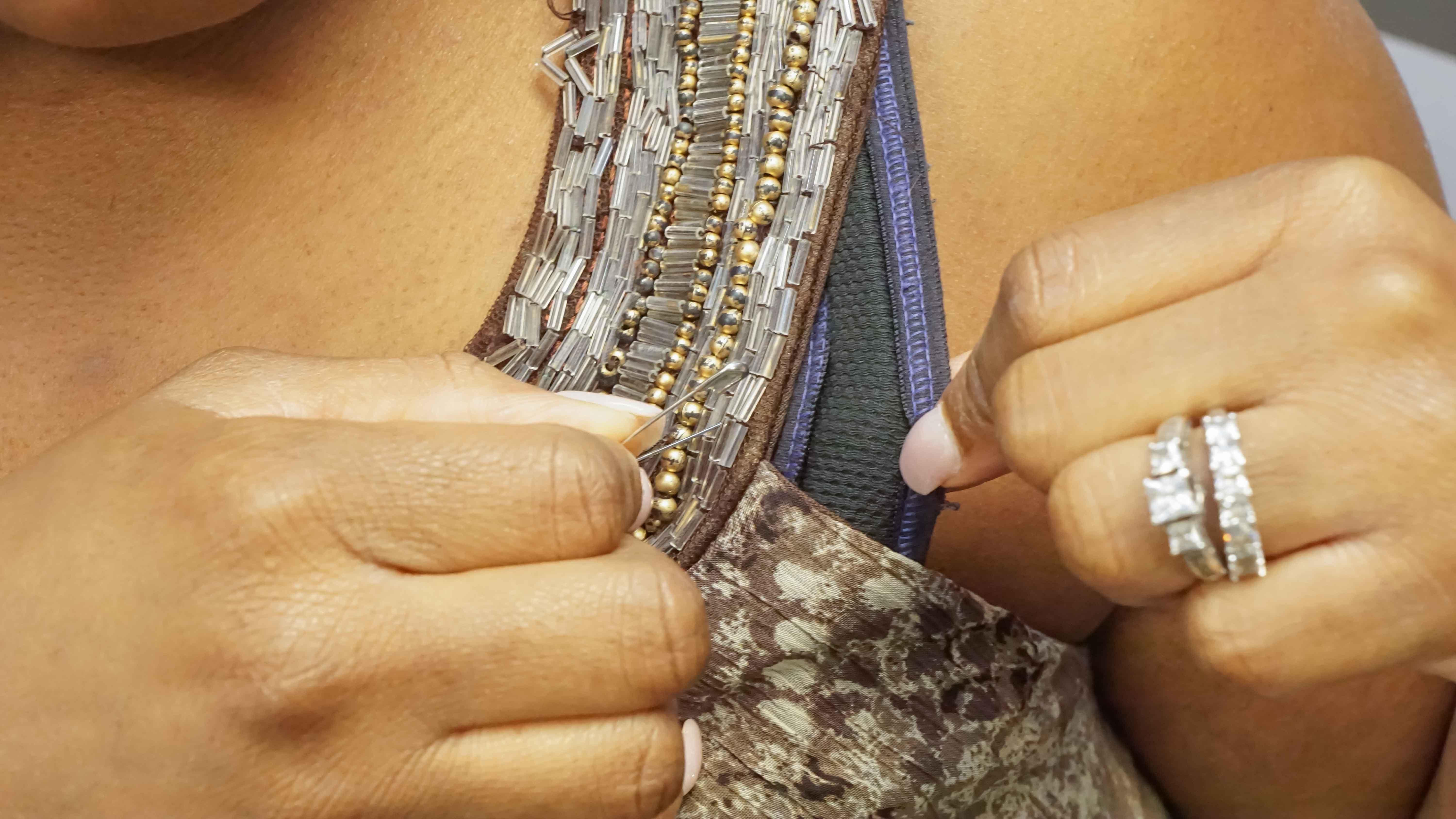 Step 1: Using your hands, tuck your bra strap underneath the strap of shirt, making sure the bra strap and shirt are aligned and the bra strap is not visible.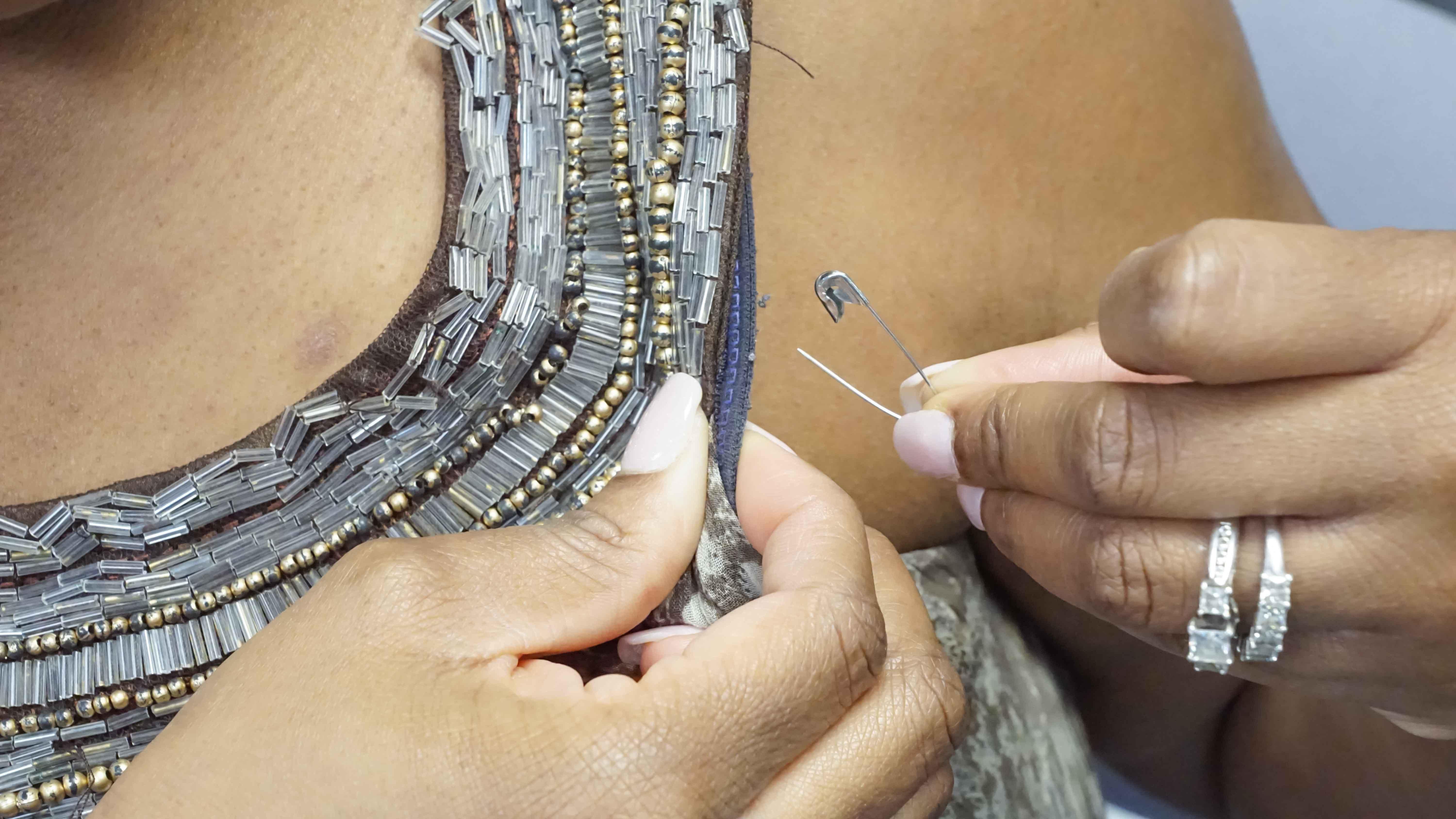 Step 2: Take safety pin pointed end and insert it into both straps and clip it back into place.
Now you're complete and bra strap free!
Some of this may sound boring, old fashioned and senseless, but these tips, do's, and don'ts will help you appear professional in interviews, meetings, and other business settings. Remember, not everything applies to every employer. After you've landed the job, get to know your employer's rules.